Internet Security 2012 is a malware client that is connected to many previous threats. These threats include Win PC Defender, Security  Central, Spyware Protection, Security Central, XP Deluxe Protector and more. This virus can be traced back as far as 5 years. It seems this is a rogue program that is released every several months or so with a new name attached to it. This is so people will not recognize it and it can stay under the radar.
Internet Security 2012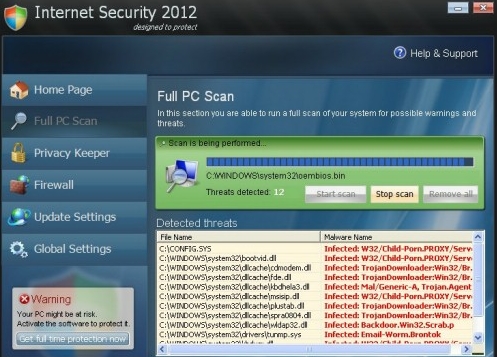 Do You Know what Internet Security 2012 Is?
Internet Security 2012 is false security program. This software is meant to fool people after it is downloaded. The graphic interface is easy and appears legitimate. The first sign you have been infected with this program is  At first glance it may fool you as the Graphic User Interface is not bad looking. You will find that after this programs is installed it will deliver error messages. Although these messages can see very real, and very scary, none of them are actually real.
How did Internet Security 2012 Get on My Computer?
The answer to this question is there are different ways it could have gotten on your computer. A popular way this can be transmitted is for end users to install this virus thinking it is something that can help them. When on the computer, a malicious website will ask someone to install a video update or even security update. This is the actual trick. If there is no antivirus protection on a system then these infections can be installed. Antivirus protection helps to stop these kinds of attacks.
When the virus gets through on the computer from the security weaknesses then you will begin to see all the effects of this virus.
Is my PC Being Damaged in any way  by Internet Security 2012?
Internet Security 2012 does erase or delete personal files at all. So, in this regard your files are safe. Your social profiles and banking information is not being tracked and sent to unauthorized people. That's another good thing. What you do have to worry about is it blocking your programs. You will not be able to use your program until you delete this virus totally from the computer.