What is FBI Green Dot MoneyPak?
FBI Green Dot MoneyPak is the newest FAKE warning on the internet. It is a malware program that is tricking people into paying unnecessary money. This is a real scam that is getting passed around the internet. Everything you see about it is a scam. If you are having trouble with this threat then read the rest of this guide to erase it.
How You Got FBI Green Dot MoneyPak
This kind of threat usually gets installed from the computer user getting tricked into installing it. This program can also install on your computer if you don't have a good antivirus program to protect your computer system. Make sure that your security updates are recent and that you have all the patches you need for your OS. If you have this infection think about changing your antivirus to PC Tools. You can even try the free trial.
What Damage is FBI Green Dot MoneyPak Causing Now?
This virus will stop your computer from running normally. It will block all your normal programs from running the way it was before you got infected with this virus. This is the main factor that contributes to this being a hard virus to remove. Look out for your webcam turning on if you have this virus. This is pretty scary, but its still just a trick. The makers want you to think the FBI is taking your photo. They are not.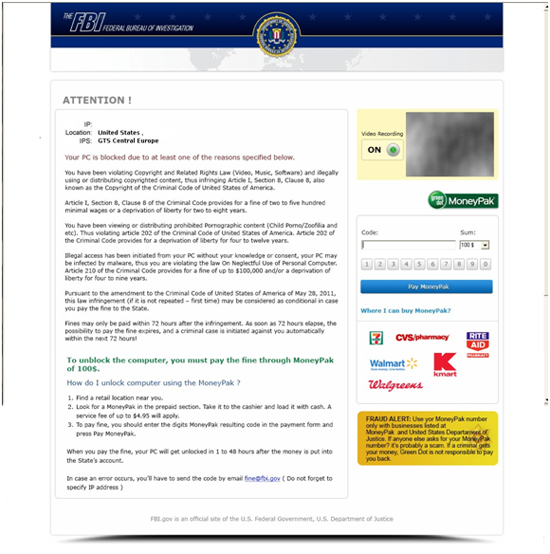 » Download FBI Green Dot MoneyPak Removal Software
FBI Green Dot MoneyPak Manual Removal Procedures
The main thing you want to do is stop the executable from operating. The file name for it can be different from computer to computer. It will look like "varying-filname.exe" Find the location by reading on.
File Locations
When looking for files remember that the location can be in hidden files and folders. If you need to see these folders then make sure you click the option to show hidden files and folders on your computer.
Windows Vista/7:
Search for the files using these paths
C:UsersUSER NAMEAppData
C:UsersUSER NAMEAppDataLocal
There is more than one way you can use to find the file that has to be deleted.
First Option: When you browse to one of the locations mentioned under File Locations then you will have to rename it. Then, restart the computer. Use search by date to make your match.  This will help sorting much easier. The file will definitely stick out like a sore thumb.
Second Option: You will have to boot your computer in Safe Mode. Then you will need to delete the file after that. Refer to the file path if you need guidance. You may also use "safe mode with networking" then you should look into downloading antivirus program. This will enable you to run a virus scan as well.
Third: Sign into another account on the computer and try to erase the file this way.
Fourth:  Use Task Manager. As soon as you sign in and stop the process. Now delete the executable file as fast as possible.
Fifth: The command line can be used to delete the file and stop the task, Erase the file using the File Locations.